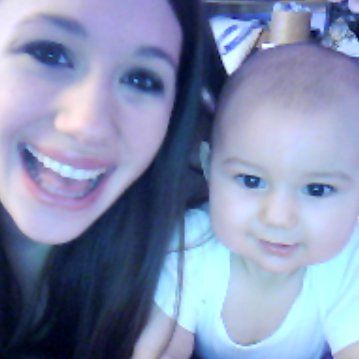 My granddaughter Alexandra........what can I say. I will begin with the reason for examining my thoughts. Alex died a few weeks ago in a head on car accident. She lost control of her car on icy roads and died a few hours later.
To say it was a shock, well anyone who has lost someone unexpectedly knows what I mean.
Alexandra. She was always a beauty. I mean movie star beauty. She knew it too. She played to the camera. As a small child she was always the rebel. She was stubourn and contrary. Always in trouble. Maybe because of that she had low self esteem. She tested everyones patience including her own. She was born here in Michigan but was soon to move south as her father was a US Marine. Alex was a cute kid but sassy, always sassy and defiant. I loved her spirit even though she would try the patience of a saint and I was not that. I only smacked her once and she never ever forgot it. Alex was the middle child, Danielle was the eldest and the little mother Gabrielle the baby. When her parents divorced her father kept the girls. It began as a rather bitter divorce but over the years became amicable and now quite friendly. The divorce effected all the girls in various ways. A lot of the problems stemmed from the Marine corps life, deployments every 18months for 6 months at a time does not make for a close marriage in most cases. When her dad retired they moved back up north and lived with me for about 6 months or so while the dad went to college and became a nurse. I suppose in making a secure future for his girls he somewhat overlooked some of their emotional needs. That happens. That's life. Alex was a troubled teen. She loved horses and my old horse was a constant love for her. She enjoyed going to the barn with me. High school was a place to be with friends and she discovered boys. Her father remarried a woman with 3 children of her own. That made 6 kids in the house. To say Alex rebelled is to put it mildly. Her dad asked if she could move in with me for awhile and she did. Eventually going home again but not for long. By then she was involved time and again with boys and was somewhat promiscuouse. Eventually causing so much friction in the home that again her father came to me asking for help. She moved in with me again. She had met a boy that she thought she loved. Long story but eventually he became the father of her son Tristen.
They broke up time and again, more dramatic every time. She was always emotional, dramatic and suicidal to the point we had her commited. Her mother was by now living here in the same town. So it was that the 5 of us. Her mum, dad, step mum, and sister Danielle talked to her doctor with Alex present and she was diagnosed as narcistic, depressed and with a personality disorder. She was also ADHD and so on. They had her living at the homeless shelter for a time. By now she was pregnant after once again leaving her boyfriend after he beat her and threatened her and the unborn baby. She had a very hard road and always seemed to choose the wrong path. We were there to support her but we made her go through it all.......she did. She grew stronger. She learned about herself. She grew up. She moved on. During her preganancy she met another guy and was hoping that would work out. She was desperate to marry and have a home life. When the baby was born every one was there with her going through it and when she left the hospital they came back to live with me. It was not long before she met the guy who was to become her fiance. It was all she wanted in life. That stability of a home and family of her own.
She went to college while I watched the baby, she got a job and took care of Tristen. She was happy. She still had doubts but she was overcoming.
Her and her fiance broke up for a short time and had just got back together when she was killed. She had also got a great job lined up for when her class was complete as a dental assistant.
So.......the day she died she had taken Tristen out to her aunts house for a sleding party with all the family. Including her mother and her husband, her dad and step mother step siblings and sisters and cousins. They had a great time. Her dad left early and brought Tristen home.
She died that night.
So......................just as things had turned around she had found what she was looking for she was working hard on changing the things she now realistically saw that needed to be changed and seemingly had it all why then did she die?
So many people ask why?
There is no reason. God did not take Alex. God did not cause this. It was an accident pure and simple. God did not intervene. I believe that she is with her Lord and saviour. She is in a better place and some day we will be with her again. Its hard, always hard for those left behind. We are here for only a short time and then when our lessons are learned we have no reason to stay. Every life is intertwined with others. We all have lessons to learn. I was never good with children (ask my own) but have learned over the years to be more patient and kind with my grandchildren and now with Tristen. He lives with me now as he always has. For Alex maybe we are already together because God said we will be raised in the twinkling of an eye and so the dead in Christ are raised first but it all happens so quickly and in another dimension so that maybe already we are all reunited. I know in any case my Dad will have been there to greet her and introduce her to other relations who are there. It wont be long and we will all be there. Meanwhile there is a job to do. We have a baby to raise. He will unite the family as nothing else could. He has so many adults who love him and young people too. Life for him will be complicated but in this day and age it is for most people. Relationships are complicated in todays world. In our family we think of all the blended children as full family and do not use the words "step".............all are equally loved.
Alex fiance still had her engagement ring, they had agreed to wait until he had taken his boards (to be a nurse) before they sorted out their relationship and set a date. She died before that happened but he put the ring back on her finger as she lay in her coffin..........she would have liked how it shone and sparkled there under the lights. She was still vain (smile) and liked the "bling"
She was my shooting star who shone so bright for a short time and burned out way too soon.....................Alex, I still can not believe you are gone. Your little boy is so much like you. We will not be able to forget you because I see your eyes shining out from his when he is being mischieveouse or being naughty. We will try our best for him, we all will. Where we failed with you we may succeed with him. Alex why did you die? I don't know really, just a simple accident that we all thought you would recover from. Then upon finding out the extent of the inside injuries who knows, would you have wanted to live? You were the cheerleader and athletic and yes vain, could you have handled the scars and being an invalid? All I know is that you are OK now. That you will see everything clearly now and as I spoke with you the night before you died, I told you what a great mother you were. You will believe me now. Tristen stays with people, likes people, likes attention and is a credit to you sweet girl.
Rest in peace we will see you soon. I love you Alex
Nanny